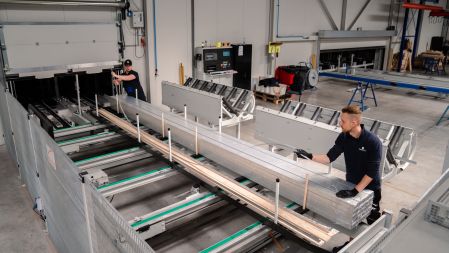 Comhan has been known for aluminium sheets, profiles and smart aluminium systems for 70 years. We started out supplying aluminium materials for the construction and industrial sectors. In the meantime, we've grown into an expert wholesaler and system supplier of aluminium for the construction, industrial and visual communication sectors.
We have it, we make it and we deliver it!
70 years of being in business has given rise to an wealth of knowledge and experience, which we use to offer an extensive range of products from stock. We have developed a solution for every problem we've encountered in our field throughout the years. In addition to standard aluminium sheets and profiles, we also have special solutions in stock or can manufacture these in a short amount of time. There's a reason we say: We have it, we make it and we deliver it!
Aluminium for the construction and industrial sectors
As a stock holding wholesaler, we know like no other the requirements that the construction and industrial sectors place on aluminium sheets and profiles. We can supply our entire product range from our own stock. But you can also ask us to create a customised solution for you. Our service centre has a wealth of knowledge and experience in aluminium processing. That's why we are the ideal partner for the demanding and dynamic construction and industrial markets!
Pioneer in visual communication
Some 30 years ago we discovered that aluminium can be used for manufacturing all sorts of products in the visual communication sector, and we were one of the first to market XXL (fabric) tensioning systems. At the time this was a novel idea, but nowadays you can't miss our aluminium sign systems on the streetscape. We develop intelligent, state-of-the-art solutions for the most varied of needs, such as for a outdated façade that needs covering up or for companies that want to make their logo visible even when it's dark. The fact that a good idea can travel is evidenced by the fact that our systems are being used across the globe.
Perhaps it goes without saying, but at Comhan you can always count on quality, good service and competitive pricing.
Comhan Holland; your aluminium partner for customised and bulk solutions!
Why choose Comhan?
70 years of expertise and experience in aluminium
Aluminium from stock; from small to factory quantities
Customisation, 3D sheet and profile processing
Pioneers in aluminium for visual communication
Special customised systems and their processing
Customised and bulk aluminium!