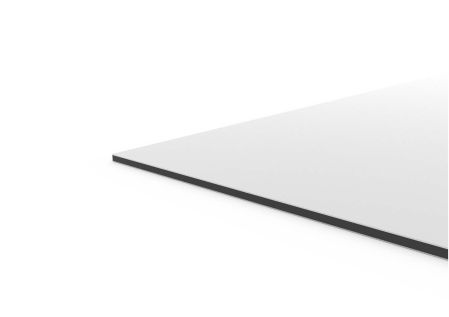 ACP 0.5 Facade FR
New at Comhan: Almaxco® aluminium composite panels (ACP) with a fire retardant FR-core, fire class B1. These ACP sheets (or sandwich plates) provide an attractive look and as such are very suitable for use in the façade construction industry, as façade cassettes for example.
The material can be found in the construction industry in roofing and façade elements, renovation cassettes, column cladding, fascia's and flat wall and roof panels.
Advantages:
Light weight and extremely stable
Significant formability and easy to process
Durable
Fully recyclable
Dirt repellent and weather resistant
Double sided lacquering in various colours and available from stock
Colour match possible from 800 m² (1: 1 project colours)
Unique: multiple colours can be applied to one plate side (project colours)
Also customisable!
These ACP plates with FR-core are easy to work with and can be made to measure. Options: milling, drilling, rolling, bending, gluing, printing, bonding, sawing and hot air welding. CNC milling and/or decoupage make complex designs possible.
We can also fold the edges of our ACP sheets with our edge folding machine. The result is a top quality edge finish! Request a free sample (A5 size).
Items
Article No.
Description
Unit