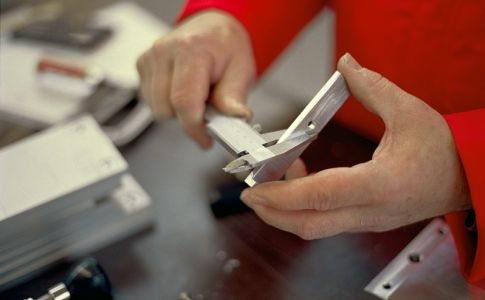 Aluminium profiles are manufactured with the greatest care. The required tolerance is determined for the profile depending on the envisaged end goal. The profile's tolerance indicates which size variations are possible in production.
But what exactly do the various tolerance standards mean and what standard is used for which application? And what effect does the chosen tolerance have on the production process of the aluminium profile?
Read it in our blog!
 
Profile tolerances explained
As stated earlier, the profile's tolerance indicates which size variations are possible in production. If a profile is specified with a tolerance that is too wide, there is a chance that the profile will no longer meet the requested requirements at a later stage of production. It then takes time and effort to make this product suitable for the desired application. These repairs generally don't much improve the appearance of the profile either.
If too narrow a tolerance is specified for the aluminium profile, this is not good either. This is because the die's productivity and operating life decreases and the likelihood of rejection during the extrusion process increases. In many cases this leads to an increase in costs, while the product could also have been used with a cheaper, wider tolerance. It is therefore important to find the right balance and to choose a tolerance that is both beneficial in terms of production costs and ensures a usable and robust end product.
Tolerance standards EN 755-9 and EN 12020-2
Fortunately, tolerance standards have been set up to make choosing the correct tolerance for aluminium profiles, sheets and products easier. In the aluminium extrusion industry two standards are used that are defined by standardization organisation CEN: EN 755-9 and EN 12020-2.
The normal extrusion standard is EN 755-9. This tolerance standard is aimed at the large-scale production of relatively easy-to-fabricate profiles. For more demanding extrusion applications, the EN 12020-2 standard is used, which is 50% more accurate than the EN 755-9 standard. These can be profiles that have architectural applications, or specific profiles with applications in areas where it is essential that the material has minimal shape and size variations.
It is important to realize that these tolerance standards are guidelines. Depending on the profile to be produced, narrower tolerances may also be possible. Are you unsure about the required or possible profile tolerance? Please do not hesitate to contact us. Comhan offers customised aluminium; we are happy to support you in order to produce the best solution for you.
Which tolerance standard for which aluminium applications?
What are profiles with EN 755-9 mainly used for? And in which sectors is the narrower tolerance standard EN 12020-2 often opted for?
In general, profiles with EN 755-9 standards are used in the following sectors:
Bodywork construction
Shipbuilding
Railway vehicle manufacturing
Tent and scaffold construction
Offshore
Profiles with an EN 12020-2 standard are often found in the following applications:
Facade profiles
Window and door profiles
Interior construction
Signing
Lighting
Automotive industry
This is purely a general indication: the standards are guidelines and it can be interesting for each specific case to look at the different options. Depending on the size, shape and the complexity of the profile, a narrower tolerance may be achievable.
Aluminium profile tolerances: standard production or customisation?
Thanks to the clear norms regarding profile tolerances, you as a customer are assured of a good standard. When ordering profiles you know that the maximum deviation is never greater than desirable. This prevents costly changes to the material and allows the profiles to be applied more quickly.
At Comhan, we use the EN 755-9 standard for our standard profiles. The special profiles are produced according to the narrower EN 12020-2 standard. Of course you can always discuss your special tolerance requirements with us so that we can explore possible options for  your specific project.
Are you involved in a project where narrow(er) profile tolerances are required or are you interested to know more about options and costs? Please do not hesitate to contact us for more information and tailored advice.