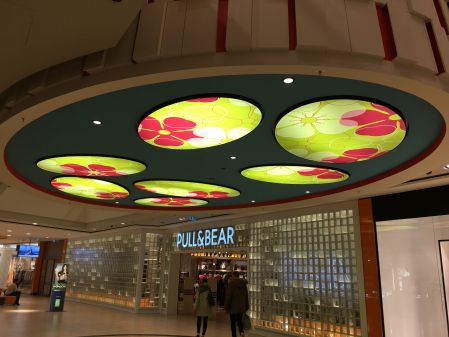 Published in: inStore & Livecomm, 2019 (Dutch article)
Written by: Jan Mol
With around 70 years of experience as a wholesaler in aluminium systems, profiles and panels, Comhan Holland serves sectors such as the interior construction sector, store design and the visual communication/advertising industry. Customised aluminium solutions to be used for LED frames, textile frames and displays... that is Comhan's 'bread and butter'.
Creativity given a boost with curved aluminium profiles
Anyone who wants to buy lengths of material is always welcome. The same goes for those who require customisation. There is no shortage of aluminium at Comhan; in the Netherlands alone, they have between 800 and 900 tons in stock. And it's a good job too because the market is booming.
One aspect that Comhan has genuinely perfected is the bending of profiles. Peter Baas, manager of Comhan's Aluminium Service Centre, explains: "For the past year and a half, we haven't had to outsource this as we have been doing it ourselves and the level of flexibility has increased hugely."
Long-live the curve!
The customer can choose from round, elliptical or oval profiles. Or, in other words; "You ask, Comhan will bend". Baas has seen a huge spike in demand: "Our curved profiles are finding their way to store designers, interior designers and stand-builders. The use of our curved profiles is very diverse. You can also hang textile/screens from them, so the frame is ideal for advertisements in a shop window, for example. Or hang it on the ceiling as a functional or more decorative lighting element."
Baas has also seen advertising hoardings that hang above scaffolding, on the walls. "There are designers who use two circular profiles above one another (internal and external profile, mounted counter to one another) with a canvas or thin acrylic plate in between and lighting inside. You can create a beautiful, customised lamp in the blink of an eye. A shape can also be 'closed' by means of a connection piece that sits tidily inside the radius."
Also possible: bending of Keder profiles. These profiles are ideal for tensioning and attaching membranes and canvas, which are finished with a keder tendon. By bending a Keder profile one can for example make a suspended cylinder frame for your exhibition stand or retail interior. Read more about Keder profiles
No deformation; plenty of freedom when it comes to shape
Comhan has specific bending rollers for a number of profiles. "This allows you to prevent deformations", explains Baas. "Bending is a very specialised task. At the moment, we can supply a several profiles in a curved finish. The number of rollers is increasing. If someone asks for a profile and we don't have the specific roller, it depends on the order quantity whether we will have this made or outsource the work."
These models can be bended directly:
The freedom of shape and the corresponding creativity are welcome factors when it comes to curved profiles. "It's something that has to be seen to be believed; customers must first see the results and then realise that these profile shapes are genuinely within easy reach. The fan-base, however, is gradually growing", adds Baas. The profiles are preferably bended in a mill finish (surface) state. "Then we can powder coat or paint them in the required RAL colour, or have them anodised. The new structure coatings always make this product look very decorative in practice."
Downloads
Download Brochure SEG fabric frames - Comhan Holland
(4.12 MB)
Download Brochure Sublimation colours
(537.47 KB)
Download Surface treatments for aluminium
(571.1 KB)