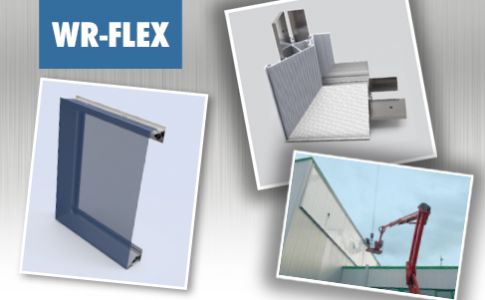 Simple mounting by pre-assembled, retractable corner fittings enabling straight cut profiles to be used. Thanks to the intelligent 'slide-in detail', the canvas (on the upper side featuring keder) can be slid smoothly into the tension frame. As such the wording on a message is always straight and large canvasses can be easily and quickly alternated. In addition to the mill finish version, WR Flex® is also available in a LED White Matt lacquer (RAL 9003) for even and bright illumination. In combination with the use of special light conducting, lightweight rear wall panels (LGP), optimal illumination can be achieved with fewer LED modules. The WR-Flex® system can be used to communicate (advertising) messages via large façades, or adorn or provide existing buildings with a "face-lift".

Obvious advantages of WR Flex®:
Heavy Duty tensioning system and yet only 140 mm deep
Suitable for direct wall-mounting (or on back construction)
Pre-assembled corner pieces (250 x 250 mm) make mitre sawing unnecessary
Available from stock in brute and in LED White Matt lacquer finish.
Lighting possible by means of BackLED or SideLED. In combination with light conducting rear panels (2,0 mm thick) optimal illumination can be achieved with fewer LED modules.
Intelligent 'slide-in' detail when using the keder at the upper side of the canvass guarantees a straight message / advertising slogan and enables large canvasses to be alternated quickly.
Borderless cover profile available from stock in brute and an anodised finish
(painted on request). The top side of the tension windows feature a leak-edge to prevent soiling of the canvass.