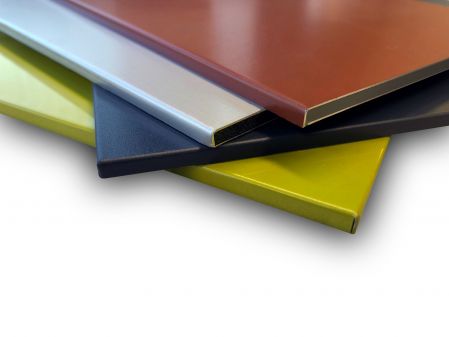 Would you like the edge(s) of your Aluminium Composite Panel (ACP) sheets neatly folded over so that the core is covered? That's no problem at Comhan!
Aluminium composite panel sheets with finished edge(s)
As well as our range of 3M edging profiles, from now on we can also neatly fold the sides of ACP sheets and other similar products. This creates a nicely finished product. A process that is ideal for ACP (also called aluminium composite panel sheets). Rough or unfinished edges will be a thing of the past. A top quality edge finish!
Email us for your free sample (A5 format)
Milling and bending in one go
Processing through our new 'milling/folding' machine ensures that the composite core material is completely concealed from the sides. In one procedure, It mills the bottom skin and the core till it reaches the top skin to be bent which it then folds over enhancing the appearance of the finished product. We can process a panel thickness from 2 to 6 mm, with both PE core and FR core.
See a demonstration in the video below.
Customised aluminium
Customised aluminium has never been a problem for Comhan. As you may already know, our processing department already carries out almost all 3D (CNC) panel and profile processes. With the arrival of our milling/bending machine, we can serve our customers even better.
Directly view:
Downloads
Download Almaxco® Brochure
(1.72 MB)
Download Comhan brochure: 3M Edging profiles
(675.71 KB)