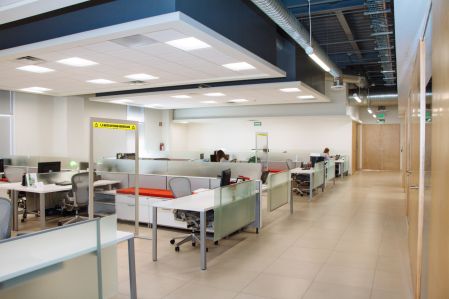 As the corona crisis continues, it is becoming more and more clear that we will all have to adjust to the new normal, a society of social distancing. This means offices will also have to carry out several adjustments to the workspace, in order to create a safe new way of working in the office.
Comhan wants to help adjust to these new standards. Therefore we offer office furnishers several solutions for creating COVID-19 proof office spaces.
Protective shields
When rearranging workspaces within the office, the practice of staying 6 feet apart has to be taken into account as best as possible. However, this might often pose quite a challenge, especially in smaller office spaces. How can you still assure the availability of safe workspaces in these situations?
In order to enable the creation of safe workspaces throughout the office, Comhan offers several aluminium profile systems, which can be used to easily assemble protective screens. These protective screens can be placed between connected desks, but can also be put in place beside or behind individual desks. These protective screens provide clear boundaries surrounding all workspaces and can be used to achieve a safe workspace for all employees.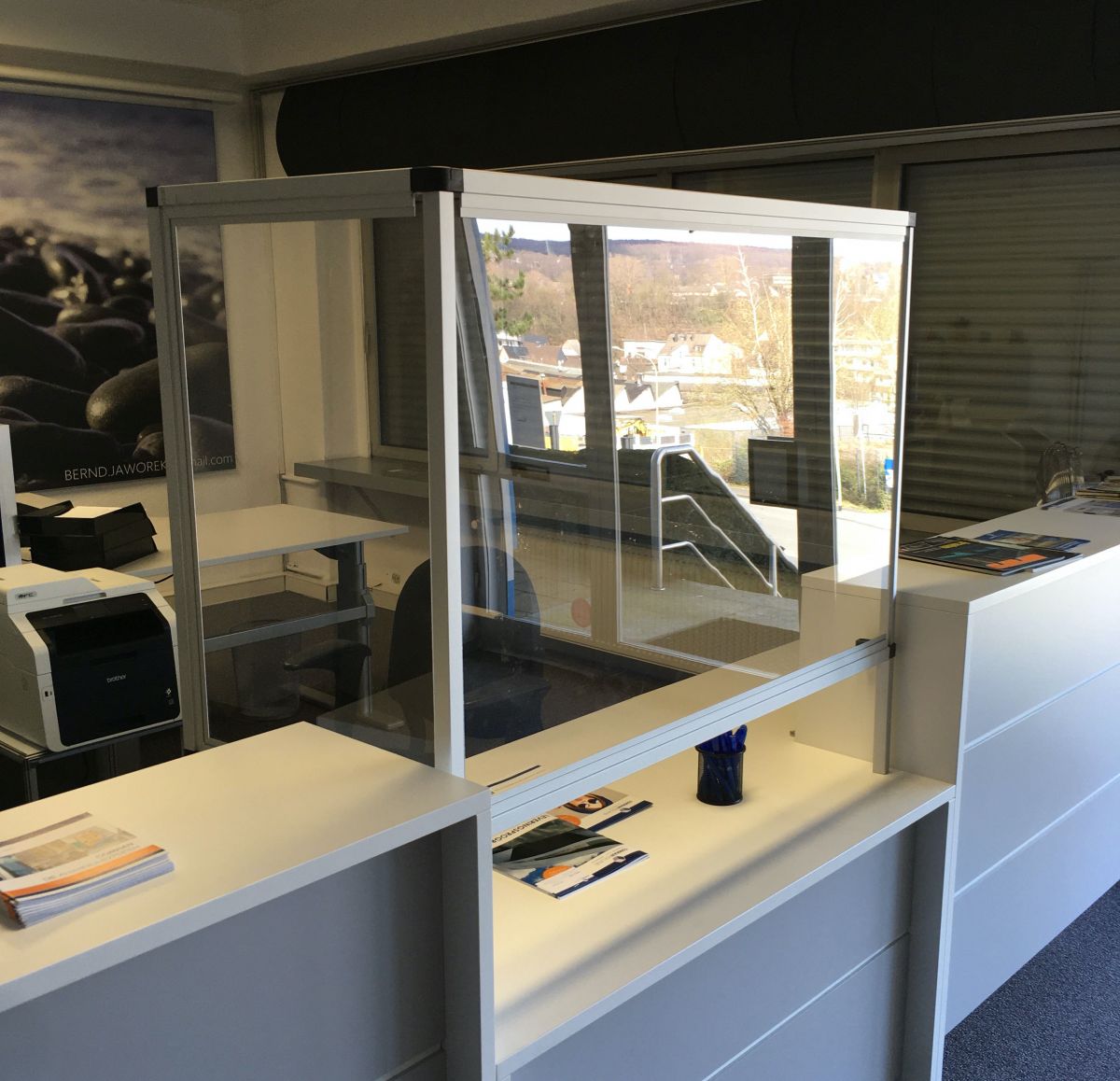 Protective screens created with aluminium profile systems are robust, lightweight solutions, and can be implemented as a durable solution for a long period of use. The plastic surface can be cleaned easily in order to maintain a high hygienic standard within the office. You can clean the shield with Vuplex®, which is made for cleaning and maintaining high-gloss plastic surfaces.
Warning tape
It still takes time to getting used to maintaining the required distance of 6 feet from each other. This is noticeable in stores and public spaces, but also within office spaces, as soon as we will start going back to the office. That is why office furnishers and office managers will also have to provide some visual cues, to remind co-workers and visitors to uphold the norm of social distancing, by keeping in mind the '6 feet apart' regulation.
Comhan supplies special warning tape to remind everyone of this regulation. The yellow tape with black print bears the message 'Please keep a distance of 6 feet', and can be applied to several surfaces. This way, clear reminders can be put in place on floors, doors or the protective shields surrounding the desks.

Disinfection columns
It is of utmost importance that all employees regularly wash and disinfect their hands. To make this easier and safer, disinfection columns can be placed around the office. With our aluminium profile systems, you can assemble robust disinfection columns.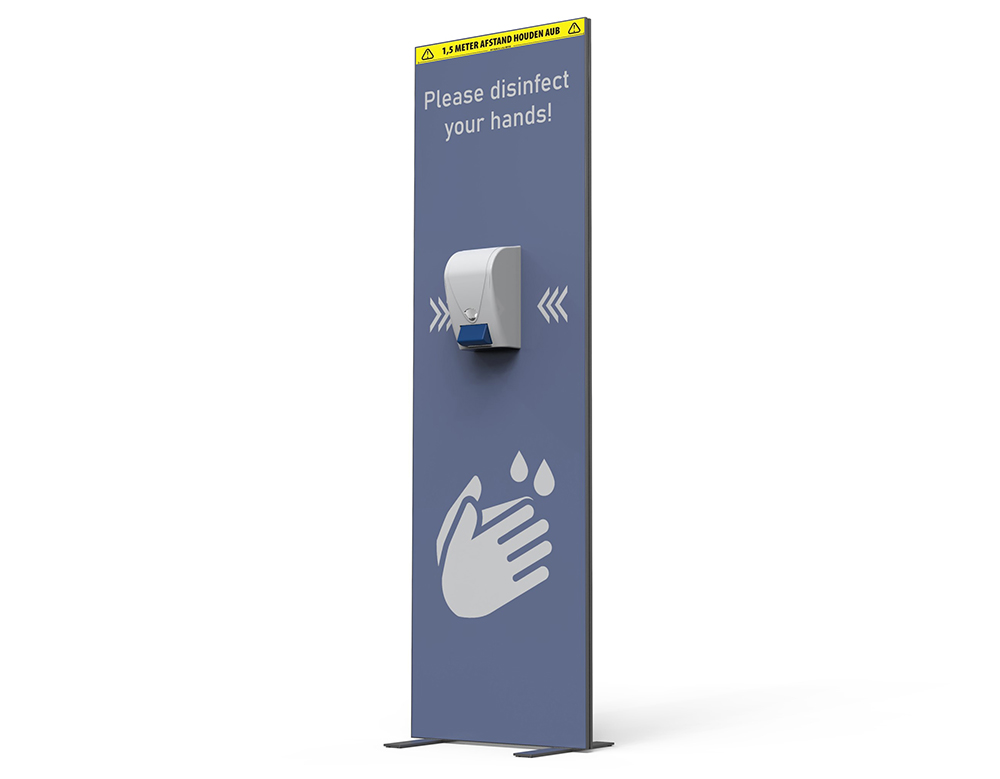 Besides placing several disinfection columns, you can also think of creating personal disinfection stations at the desks of employees, allowing them to regularly clean their own workspace.
Additional tips for a COVID-19 proof office space
Besides the implementation of the solutions mentioned earlier, as an office furnisher or office manager you can also take these aspects into account:
Pay attention to the flow of the office and ensure that employees can safely pass each other in all situations. Create clear walking routes and communicate who has the right of way in more complicated situations.
When there are no suitable air treatment systems in place within the office space, it can pay off to place air purifiers around the office. Pay close attention to the effective range of each purifier, to ensure that they are suitable to purify the air within the entire office space.
Ensure that all employees possess their own required office supplies, to avoid the need to share office supplies with others. If this is not possible, be sure to provide cleaning solutions and encourage employees to clean office supplies directly after using them.
Place large conference tables in the conference room, and limit the amount of chairs surrounding the table, in order to maintain the proper distance. Also ensure that facilities are in place in order to have video meetings. This way, part of the team can join meetings from a safe distance (e.g. working at home).
Quotation inquiry
Do you require protective screens, disinfection columns or warning tape, in order to create a COVID-19 proof office space? Comhan provides made to measure solutions and can produce all systems at the required measurements for your specific situation. 
Reach out to us for more information regarding the possibilities, or inquire for a quotation right away.